Introduction
This is a series of tutorials and practical flying exercises prepared by CIX VFR Club to introduce members to online ATC and to enable them to learn at their own pace how to use it. Each lesson consists of a Groundschool section on aviation law and theory, and a practical exercise.From lesson 6 onwards, a discussion on flight planning is included and the practical exercise is a flight using the information in the lesson.
Congested Airspace
Lets now move to a slightly more exciting environment. For this lesson, you will fly from Biggin Hill to Stapleford, north of the Thames 'have lunch' and fly back again. For Biggin Hill, the Club has some special CIX VFR Club scenery, with Office, Clubhouse and Members Bar, parked vehicles, a lorryload of chairs being delivered and a summer barbecue in progress under a striped canvas awning. It isn't essential, but it makes for a more welcoming start. There are versions for use with FS9, FSX, photoscenery and default scenery.
Biggin Hill Aerodrome, as it was in World War II, played a significant part in the Battle of Britain. Today, known as London Biggin Hill, it is in surrounded by air traffic going into and departing Gatwick, Heathrow, and London City plus military traffic not too far away at Farnborough. That is without accounting for the hundreds of light aircraft movements at surrounding General Aviation aerodromes such as Rochester, Manston, Redhill, Headcorn, Blackbushe etc.
This means that the airspace in this part of the South East is more congested than average, with a lot of controlled airspace to protect the traffic using the major airports where VFR traffic is not welcome. Nevertheless, flying out of Biggin Hill is really no more difficult than flying out of Gloucestershire. You just need to study the chart more carefully to identify the places where you would not be welcome, or are simply not allowed.
Groundschool
By now, with two previous flights under your belt, you should be getting the hang of things. Remember that preparation is very important, so i make no apology for a considerable amount of it.
Reading
For this flight you need to understand the various types of Controlled Airspace and how they affect VFR pilots. This is fully explained in Chapter 1 section 7 of the Club's Radio Telephony Manual which may also be found on the web site. Make sure you know the definitions of, and differences between Control Areas (CTAs) Control Zones (CTRs), Terminal Manouevring Areas (TMAs), and Aerodrome Traffic Zones (ATZs).
Chapters 2 & 3 of the Radio Telephony Manual contain the information about ATC procedures. By now you should be beginning to remember at least part of these. In particular, rehearse the CEPHACER airborne flight plan call covered in Chapter 4, section 6. You will be making that call at least once on each of the two flights. This subject is also covered in Lesson 6 of this Online Flight Training Guide. Reading these documents will prepare you for the Air Traffic Control element of the flight.
A useful tip is to write out on separate cards the ATC dialogue you can expect for arrival and departure, plus the CEPHACER airborne flight plan call. Then you can simply read what's on the card if you get stuck. At first daunting, talking to ATC really does become much easier after a fairly short time.
To help planning the flight, study exercise 18d section 4 of the CIX VFR Club Flight Training Manual. To help departure and arrival procedures at the aerodromes, study exercises 20, 21 and 22 of the Flight Training Manual. The Manual is available on the Club website at http://www.cixvfrclub.org.uk/training/TrainingManual/training_manual.php
The essential ATC dialogue for this flight is included later in this lesson, but you should also read Chapters 1, 2 and 3 of the Club's Radio Telephony Manual which may also be found on the web site.
As a new pilot, be aware that most controllers you are working are unlikely to be as inexperienced as you, although some may be. Obey their instructions, and ask for help if you are unsure of what to do. You can also put 'Student Pilot - first on line flight' in your flight plan. Also, read the Club 'Code of Conduct' document accessed from the Membership page of the web site. It contains a lot of useful advice.
The Chart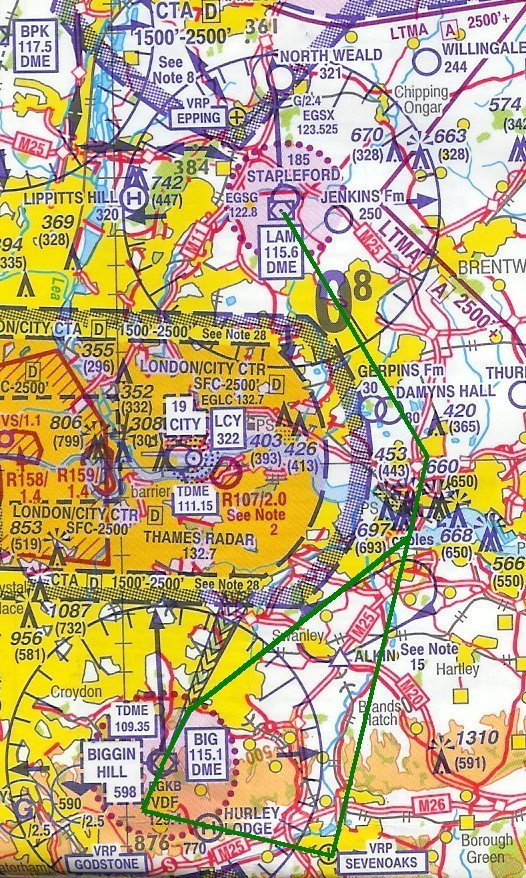 The chart is a bit cluttered in this area of England, so study it for a while - perhaps quite a long while, as there is a lot of important information to be gained from just this small area.
At the top of the chart segment, you will see part of the blue boundary line of Stansted's CTA just north of Stapleford aerodrome. Prominent in the centre is London City's Control Zone (CTR) extending from the surface to 2500 feet and the narrow strip all round which is its Control Area (CTA), extending from 1500 feet to 2500 feet.
To the north and west of Biggin Hill is the conurbation of London itself, and to the south, just right of Godstone VRP, you can just see the northern tip of Gatwick's CTA.
But also notice the purple line just east of Stapleford, near the top right hand corner, forming a sideways 'V' shape with the legend "LTMA A 2500'+" running parallel to the line. That signifies that the London Terminal Manouevring area covers the whole of this area from 2500 feet upwards, like a huge blanket. The A means that it is Class A airspace. The '+' means that the top of the TMA is at the base of the Upper Airways System, i.e. 24,500 feet.