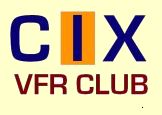 Roving Base Locations
Aldergrove - EGAA
Belfast International Airport, is a busy commercial hub which handles most of Northern Irelands passenger and air freight traffic, 11.5nm NW of Belfast city and near the village of Aldergrove from which it gets it's former name. It is the second busiest airport on the Island of Ireland after Dublin. Over 5.8 milion passengers passed through its terminals in 2017. The airfield was previously shared with the Royal Air Force base RAF Aldergrove which closed in 2008. There is a thriving Flying Club at Aldergrove (which has probably the most minimalist website you have ever seen!) which offers PPL training and pleasure flights.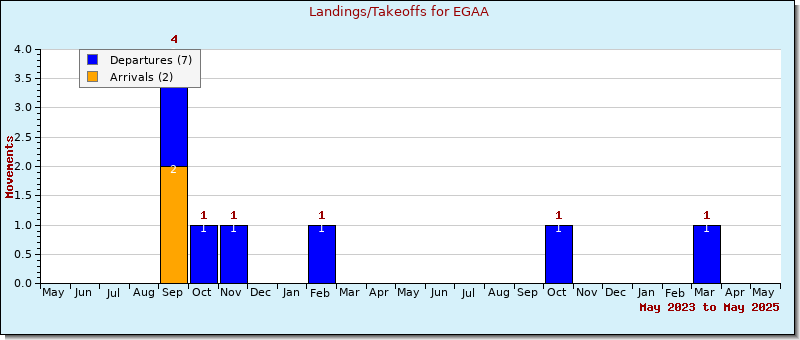 This chart show the Club's flying activity at Aldergrove over the last two years, as reported by our members using our PIREP facility.
Airfield charts and information are available from the NATS/AIS website and/or from the Club's Aldergrove Datasheet.
Airfield Data
ICAO : EGAA
Elevation : 268 ft
Located : 11.5nm NW of Belfast, Northern Ireland.
Runways : 07/25 2780m x 45m; 17/35 1891m x 45m
Radio : Aldergrove Ground 121.750; Tower 118.300; Approach 128.500; Radar 120.900
Nav Aids : NDB OY [OM Rwy25] 332.00KHz; VOR BEL 117.200; ILS 25 108.900; ILS 17 110.900
VRPs : A. Ballymena; BELR357@12nm : B. Cluntoe (Dis A/F); BEL R261@11nm : C. DIVIS; BEL R117@8nm :
D. Glengormley; BEL R086@9nm: E. Larne; BEL R054@18nm : F. Portadown; BEL R212@16nm : G. Toome(Dis A/F); BEL R306@11nm
Website : Aldergrove Airport. Aldergrove Airport - Wikipedia.
---