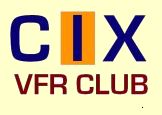 Members Favourite Aircraft
Aircraft flown by members
Some members fly the default Flight Simulator Aircraft, while others have chosen other types, or experimented with customising liveries, panels and gauges. This page shows the aircraft which members fly other than "official" Club aircraft.
---
Auster J1 Autocrat
This aircraft, for FSX only, has been superbly modelled by Dave Garwood with three FSX SP2 quality liveries. The Cirrus Minor engine sounds are by Don Putnam with an XML sound gauge by Doug Dawson.
Everything which moves on the real aircraft, moves in this model. It is a delight just to "sit" in her on the ground and absorb the atmosphere of the Golden Age of aviation. Several Club members have this model in their hangar or parked in a barn in some farmer's field somewhere.
---
De Havilland DC1 Chipmunk
The classic De Havilland DHC1 Chipmunk was the RAF's ab initio trainer from 1949 to 1993, although they still have two on their "books". This "distressed" model by Rick Piper is not only a superb aircraft to fly - particularly good for air racing - it captures the slightly battered appearance of a hard worked training aircraft. This G-CPCA bespoke livery for one of the Club's founder members is by John Woodside.
Version 2 is for FS9, but works well in FSX. Version 3 is for FSX and FS9, but is labelled as unfinished on some sites. The link below is a finished version, we believe.
Download the Version 3 Aircraft from Classic British Flight Sim
---
Beechcraft Bonanza P35 V-Tail
Beechcraft Bonanza P35 V-Tail
This, probably the most famous Beechcraft of all is a freeware aircraft available from Avsim, amongst others. It handles impeccably and is a stunner to look at. A number of member's fly this aircraft, but one member flies G-DENN all the time, when he isn't doing aerobatics in a Chipmunk with 20-4-Cix.
The downlaod includes a paintkit for creating your own paint scheme.
---
Forney F1 Aircoupe
The Club's most senior member gained his PPL in 1961 in this unique (and very rare in Flight Simulator) aircraft. The original Aircoupe (or Ercoupe) was designed by Fred Weick, the Chief Designer for Piper.
It is the simplest possible aircraft, with a control wheel linking the rudder, ailerons and nose wheel; so no rudder pedals It also has no flaps. The freeware model was created Kazunori Ito, the G-ARHC livery by Club Member Andrew Sambrook, and the unique period-avionics equipped panel by Peter Dodds.
The real G-ARHC is still flying, based at Goodwood (2012).