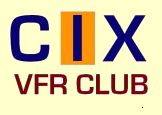 Welcome to Biggin Hill
Friday is Biggin Night
Biggin Hill airfield is located ten miles south of London. It is under the London TMA, which starts at 2500 ft.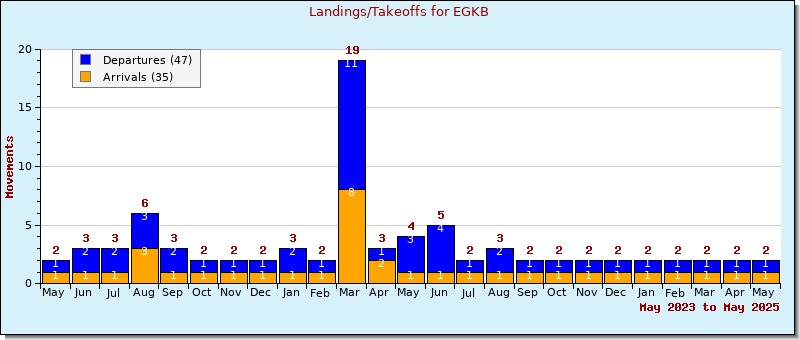 This chart show the Club's flying activity at Biggin Hill over the last two years, as reported by our members using our PIREP facility.
Airfield charts and information are available from the NATS/AIS website
Airfield Data
ICAO : EGKB
Elevation : 598 ft
Runways : 03/21 1802m x 45m; 11/29 812m x 45m
Radio : ATIS = 121.87, TWR = 134.80, APP = 129.40
Nav Aids : VOR/DME = BIG 115.10, ILS/DME(21) = 109.35
VRPs : Sevenoaks, (Swanley, and Kenley). Refer to the VFR Guide by Richard Keen.
Local Attractions
Brands Hatch is located near Swanley in Kent, and was used to host Formula 1 racing until the venue was moved to silverstone in 1986. Nowadays it is host to quite a few motor racing and bike racing events, like the A1 Grand Prix, world touring cars, British F3, and the superbike World Championship. The Events attract about 50,000 people. During the week the circuit offers some general test days, and driving experiences. It can also be hired out for private testing, andtrack days. So it gives you the chance to see for your self what its like to race in a sports car.
Local Events
The Biggin Hill Air Show takes place every summer. The airshow usually has a good mix of historic aircraft and modern military jets. 'Based at Biggin Hill Airport in Kent, Air Displays International established the now world famous Biggin Hill International Air Fair in 1963. Over the years the Air Fair has built a reputation for providing an excitement packed day out for both aviation enthusiasts and the general public alike. In addition to featuring air show favourites such as the Red Arrows the organisers strive to bring something new to each year's show.'
Famous aircraft that have been on display or have done a fly past include Concorde, Avro Vulcan, Avro Lancaster / Battle of Britain memorial flight, the mighty Boeing 747 have all played there part in making the Air show truly spectacular.
Scenery Additions
FS9 and FSX: Part 3 of UK2000 Airports by Gary Summons, also available as British Airports from Just Flight.
The Biggin Hill club house is available from the club web site under Downloads - Scenery. Our thanks to Pete Chapman for putting it together, and to non-member Ted Andrews for constructing the Clubhouse.